V.P.R. (Vietnam Poverty Relief) has many years experience addressing the needs of the people of SE Asia, quietly replacing the fears and desperation coming from poverty, war and natural disasters with pride and the feeling of community that comes from building on the resources that are innate to the group being served by using the charitable donations of money, services and other resources provided by caring, giving people and organizations.The organization seeks out deserving individuals for specific needs including health, education, clothing, food, Vietnamese veterans of the Vietnamese War, .water purification, sanitation, mines and explosives disposal and other poverty issues.



A. Food Support


A group of helpers working through the night, getting the food and clothing ready for distribution.

B. Clothing Assistance
Food and clothing distribution under the ever-watchful eye of the government (last picture).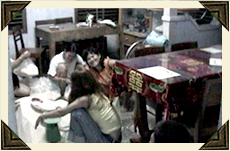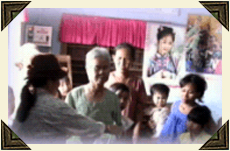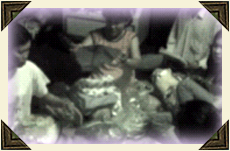 C. Education
One of our elementary schools. The children were given time out to come and see me while I was there to say thank you. The man standing behind me is Mr. Bien, an old friend of mine that administers for us in the country. We have been working together for over 12 years.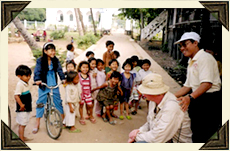 D. Shelter

E. Health and Hygiene
These pictures (below) show the Can-Tho hospital. This hospital serves the citizens of this province and provides veterans care. As you can see they need and appreciate all the help they get. The X-Ray machine is the one which US army left behind when they pulled out. We have donated about 10,000 USD over the years and have been featured on their national TV in Vietnam for doing so.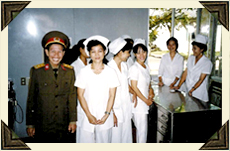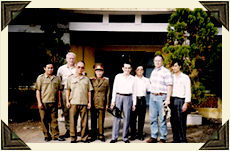 F. Business Support

Shrimp Farming - We provide seed shrimp and money for manpower and excavation equipment.This group is part of a Shrimp Farming Business. In this photo they are netting and harvesting the shrimp.In this photo the men are collecting the shrimp into baskets and then taking them to the women to process.These women are sorting and grading the shrimp for market.

Boat Construction Business - We provided the money and organizational skills to get this enterprise up and running.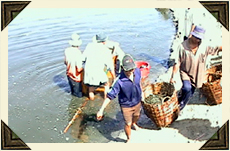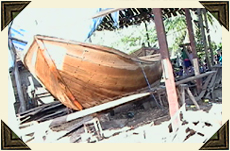 G. Vietnam Veterans
This man is a veteran of the war, but he was on our side and left behind by us. He was taken to the US and trained as a fighter pilot, but after the war he could not find employment because he was on the wrong side.With all his training and knowledge, he is reduced to repairing shoes in the street.We assist him by providing a place to live and a little money to survive on.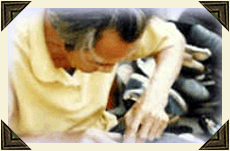 H. Vietnam Civilians
This lady is blind and alone in the world. She had just fallen into an open sewer and I was helping her to a place where we could clean her up and then give her some food.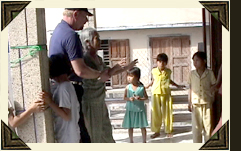 This little urchin lived on the street for two years after her parents died. The only possessions that she has are the clothes that she is wearing and a small tin box that she had hidden.